West Coast Trail Map: Bamfield to Port Renfrew Vancouver Island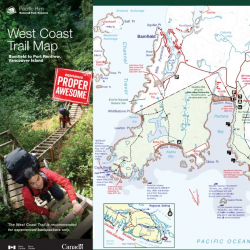 Description
This is the waterproof map issued by the park upon completing the orientation.

Check the link for access to the online version.

The West Coast Trail (WCT) is one of the three units of Pacific Rim National Park Reserve administered by Parks Canada. PRNPR protects and presents the coastal temperate rainforest, nearshore waters and cultural heritage of Vancouver Island's west coast as part of Canada's national park system.